CFFO Ecosystem Leadership Symposium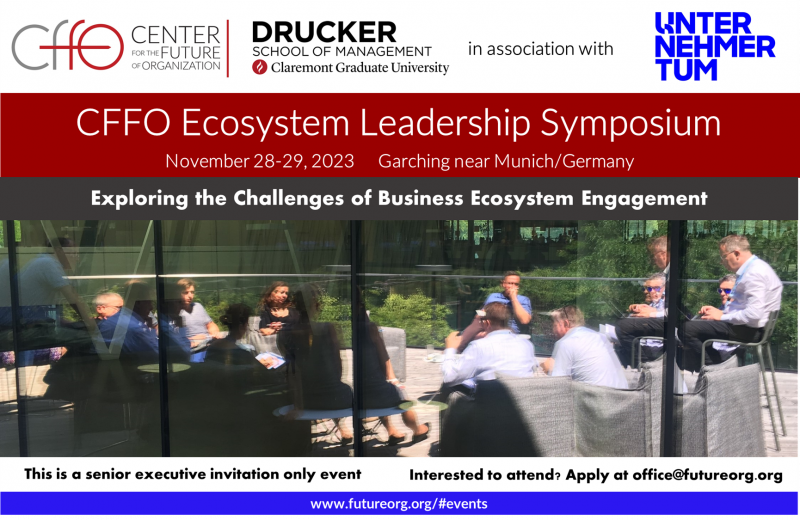 Why a Symposium on Ecosystem Leadership?
Over the last two years, our work has focused on how to succeed in business ecosystems. A global survey about the subject led to the creation of a capability framework and the development of an Ecosystem Leadership Index (ELX).
The resonance we received for our work is testament to how important leaders view this topic. In our survey, more than 100 executives expressed interest in attending a symposium and/or join a cross-industry consortium to better leverage business ecosystem networks.
We respond to this interest by organizing a 1 ½ day invitation only symposium during which we will share perspectives, discuss typical ecosystem challenges, and jointly explore how to best structure a consortium initiative.
We are excited that UnternehmerTUM (U-TUM), one of the world's largest hubs for business creation and innovation and a benchmark ecosystem on its own, has partnered with us to host and co-produce this inaugural event.

What to Expect
In a highly interactive setting, we will
Share results of our most recent research on ecosystem dynamics
Discuss implications for companies' strategy, leadership, and organization.
Share experiences and perspectives among participants
Identify key areas of ecosystem leadership to focus on in the future
Finalize the consortium cornerstones in a co-creative process and develop an initial agenda
Build relationships among participants for future collaboration.
While the symposium will serve as a launching platform for the consortium, attendance does not require participation in future consortium activities.

Who Should Attend?
Please note that this is an invitation only event. We invite executives who
Represent companies with a certain strategic and organizational complexity
Come from various functions (general management, strategy, corporate development, innovation, operations, IT, procurement, digital transformation, OD, HR, etc.)
Have a level of seniority and experience that allows for meaningful conversations
Are keen to leverage the experience of peers to (further) develop their Ecosystem Leadership capabilities and collaborate on future research in this domain.
To ensure an intimate setting and a high quality of discourse, the size of the group will be limited to 40 attendees. At this point we do not invite consultants and/or academics outside CFFO.

Program Outline
Pre-event survey
3-4 weeks before the event we will conduct a brief 10-minute survey among participants about expectations, current key challenges and opportunities their organizations face, their areas of interest, etc.
Tuesday, November 28 | 16:00 – 19:00
Welcome and outline of symposium purpose and objectives | 15 min
Round Tables: Mutual intro of participants and their respective contexts | 1hr
Presentation CFFO: Latest insights on business ecosystem leadership | 45 min
Case U-TUM: Success factors of a benchmark innovation ecosystem | 45 min
DINNER at Marriott Hotel
Wednesday, November 29 | 09:00 – 16:00
Results from the pre-event survey | 30 min
Panel of participants about lessons from experience (either curated in advance or spontaneous from audience) | 1 hour
COFFEE | 30 min
Breakout groups: In-depth discussion of key topics participating companies would like to focus on, and how to best address them (based on results of pre-event survey) | 45 min
Sharing and discussion in plenary | 45 min
LUNCH at UTUM | 1 hour
Collaborative outline of consortium cornerstones and development goals for the next 12-18 months | 60 min
Planning of next steps – potential constitution of interest groups/task forces | 60 min

Symposium Fee
€ 900 | USD 990 – includes all meals and symposium documentation.
Your participation is confirmed after your application is approved and we have received payment. Payments must be made by credit card via an online link which attendees will receive after accepting an invitation. In case a confirmed participant can't attend, a substitute is welcome, provided they fit the curation criteria.

Logistics
The event will take place at the
UnternehmerTUM Entrepreneurship Center Garching, 10 minutes from Munich airport (view map).
We suggest you book your accommodation at the Courtyard by Marriott Hotel which is conveniently located in less than 5 minutes walking distance from the event venue.

Interested to Attend?
If we have not contacted you directly and you would like to attend, please contact us to discuss your participation.
__________________
PRINT THIS PAGE (includes a list of companies who have expressed interest in the consortium)