Business Ecosystem Leadership and Organization
As digital technologies disaggregate existing industries and value chains, companies are faced with transformation challenges and growth opportunities that requires them to 'jump' across conventional boundaries that used to define their 'space'. They are forced to form novel alliances and partnerships to complete a value proposition, design a compelling business model, or gain access to a new market.
The challenges of engaging in this new universe are substantial and can be daunting for organizations.
To address these challenges, the Center for the Future of Organizations has embarked on a series of research efforts that strive to enhance our understanding of business ecosystem dynamics and the capabilities organizations need to engage successfully in this challenging context.
Phase 1
We conducted 30+ in-depth interviews with thought leaders and senior executives and a global survey among 150+ companies to gain a better understanding of the currently perceived challenges of business ecosystem leadership and organization.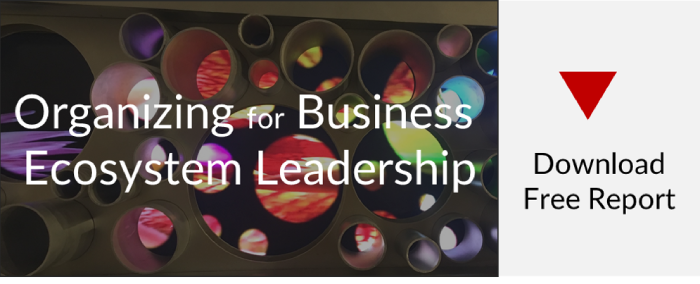 Phase 2
Based on insights from phase (1) we developed a generic capability framework that is designed to help executives navigate the complex challenges of Business Ecosystem Leadership and Organization.

Phase 3
(in process)
We are currently working on fine-tuning the results from phase (2), with the goal to create an instrument that will allow companies to measure their capabilities along the nine domains. Please join our mailing list if you would like to get updates on the progress of this effort.