Social network technologies are indispensable enablers for mastering the challenges of volatile, uncertain, complex, and ambiguous (VUCA) environments.
They have the potential to transform virtual every functional vertical, reshaping the traditional organization of the 20th century.
Companies that are faster and smarter in embracing the opportunities and risks that come with the new ball game will outperform those who lag behind.
They will be awarded with a new form of competitive advantage.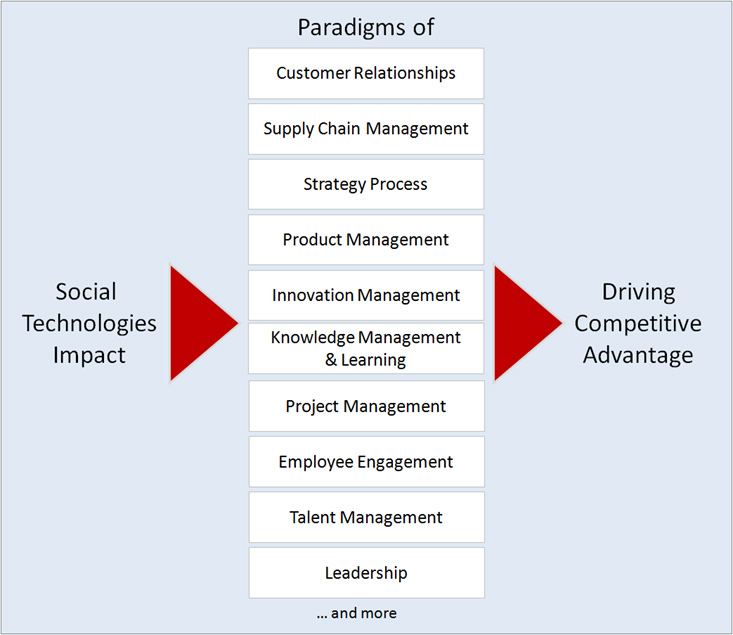 Organizations That Leverage Social Technologies …
will be more creative, innovative, and agile, able to respond faster to new opportunity spaces and unexpected change.
are more likely to create or respond to new business models that capitalize on evolving connectivity technologies.
are more likely to play a leading role in their industry by better leveraging the capabilities of partners and alliances when it comes to co-creation, co-development, and overall industry collaboration.
will enjoy a higher degree of global integration while respecting local differentiation –
within the corporation, and across the supply chain.
will benefit from tighter and more loyal customer relationships, and the brand equity that comes with that.
will be more effective in collaborating across internal and external boundaries –
with a higher ability to harness the resources that today lie hidden in silos.
will be able to attract, retain, and stay connected with better talent
will be able to tap deeper into the capabilities and ideas of their employees and external stakeholders