The CFFO Executive Lab
Innovating for Growth, Digital Transformation, Ecosystem-Driven Value Creation, ESG Strategies, Cultural Change – these are just a few fundamental challenges that every large organization faces, no matter which industry they are in. They are tricky and complex – and unavoidable, as they affect not only future competitiveness, but also impact investor behavior, access to mission-critical talent, and public acceptance.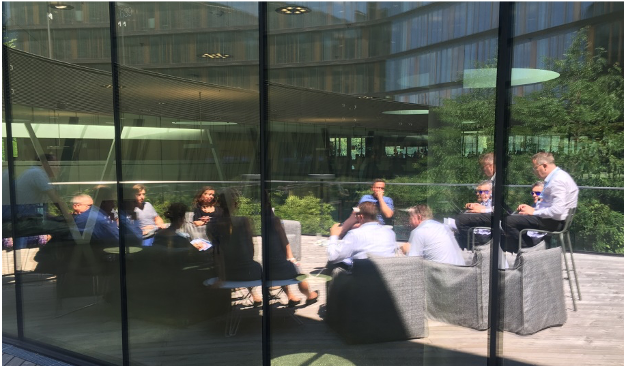 Most top executives are keenly aware of the importance of these issues, but they tend to be quite lonely when it comes to dealing with them. Apart from working with consultants or coaches, they have little possibility to reflect on these challenges outside their bubble in a trusted and competent space.
This is why we created Executive Labs.
What are Executive Labs?
Executive Labs bring together senior leaders from multiple organizations and industries who collaborate across company boundaries to better master the transformational challenges of 21stleadership and organization.
Each participating company brings a specific challenge ("case") to the table. Together with each company we decide which case is best suited for being addressed in the Lab.
We then provide a unique support architecture that enables leaders to share their ideas and challenges in a safe space, engage with thought and practice leaders, and support each other in their transformational efforts.
The Lab format of collaboratively working on concrete challenges with fellow senior leaders from other organizations enlarges perspectives, opens new horizons, and helps build valuable lasting relationships.
Who Should Participate?
The Labs are designed for senior leaders and top executives from enterprises or large business units with revenues of $500 million and more, who are responsible for business and/or product strategies and have a voice in the overall governance of the organization.
Participants must commit to sharing challenges and to collaborate on developing solutions with like-minded peers. Chatham House confidentiality rules apply.
We ask companies to attend the Lab with a team of two or three delegates. Team participation scales the experience and significantly improves impact and the effectiveness of implementation. We discuss with you the ideal composition of your team.
To maximize effectiveness, each Lab is limited to 8 participating corporations (for a maximum of 24 individuals)
How Long Does a Typical Lab Take?
Each Executive Lab consists of three phases:
A Pre-Lab Survey and Interviews
Before the Lab starts, we investigate the specific context and challenges of each participating company via a quantitative online survey and qualitative in-depth interviews with the Lab participants. The results will inform the selection of the "cases" for the Lab.
The Lab Core Program
The core program is a tight 3-month experience with two in-person modules and four virtual meetings. Cross-company teams collaborate on their specific cases between the modules. The detailed content of the Core Program will be based on the cases chosen in the course of the Pre-Lab activities.
The Post-Lab Experience
Participants stay connected via an ongoing virtual community platform. This platform features events such as round tables, panels, and thought leader inputs. It is available for all executives who have completed an Executive Lab.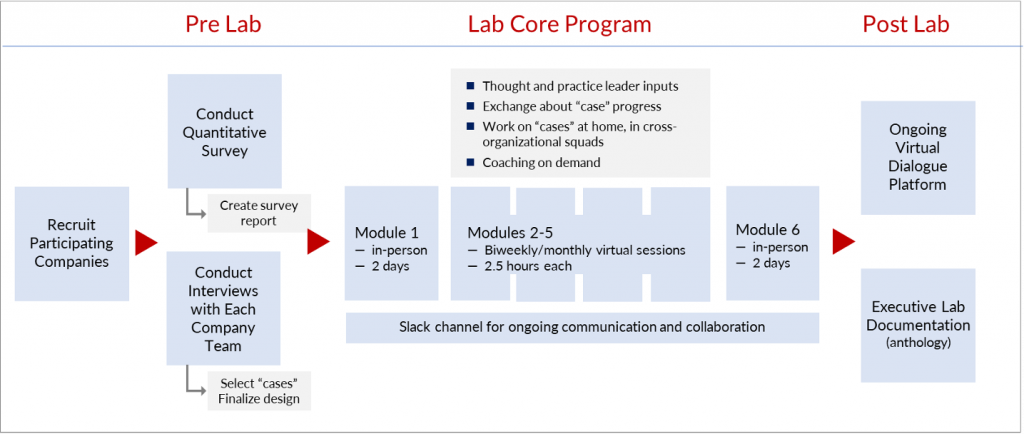 Key Benefits of a Lab
Attending an Executive Labs will allow you to
Gain insights via a pre-lab survey on the strategic challenges your and other organizations face, allowing you to compare your situation with others
Get input from global thought and practice leaders
Reflect your context-specific challenges within a trusted group of peers.
Accelerate your work on strategies and action plans by utilizing a unique support infrastructure.
Learn from solutions and strategies of companies who face different contexts.
Receive a summary of all Lab activities, including a report of the Pre-Lab survey results and a documentation of all sessions.
Faculty
We assemble the faculty team of each Executive Lab according to the themes chosen by the participating companies. It will be drawn from the outstanding academic and corporate partnership network of CFFO and the Drucker School of Management.
Costs
$39,000 per company — includes up to 3 delegates.
The fee covers all project steps as outlined above. It includes
Individual company feedback from the pre-Lab survey
Participation in all event modules including meals and materials
A comprehensive documentation of keynotes, panels, group discussions, etc.
Access to a virtual collaboration platform (Slack)
A one-year membership with the CFFO partnership program
Travel and accommodation for the in-person events is not included. Optional coaching support can be added by each participant at their discretion and will be billed separately.
Application
Please contact us to discuss your potential participation in an Executive Lab.